SA Wine Trailblazer: Marelise Niemann
"My love for grenache came from something inside of me, it's a feeling," says winemaker Marelise Niemann. "It's such a vibrant, soft and gentle grape. It's a beautiful thing to work with. I can't get enough of it."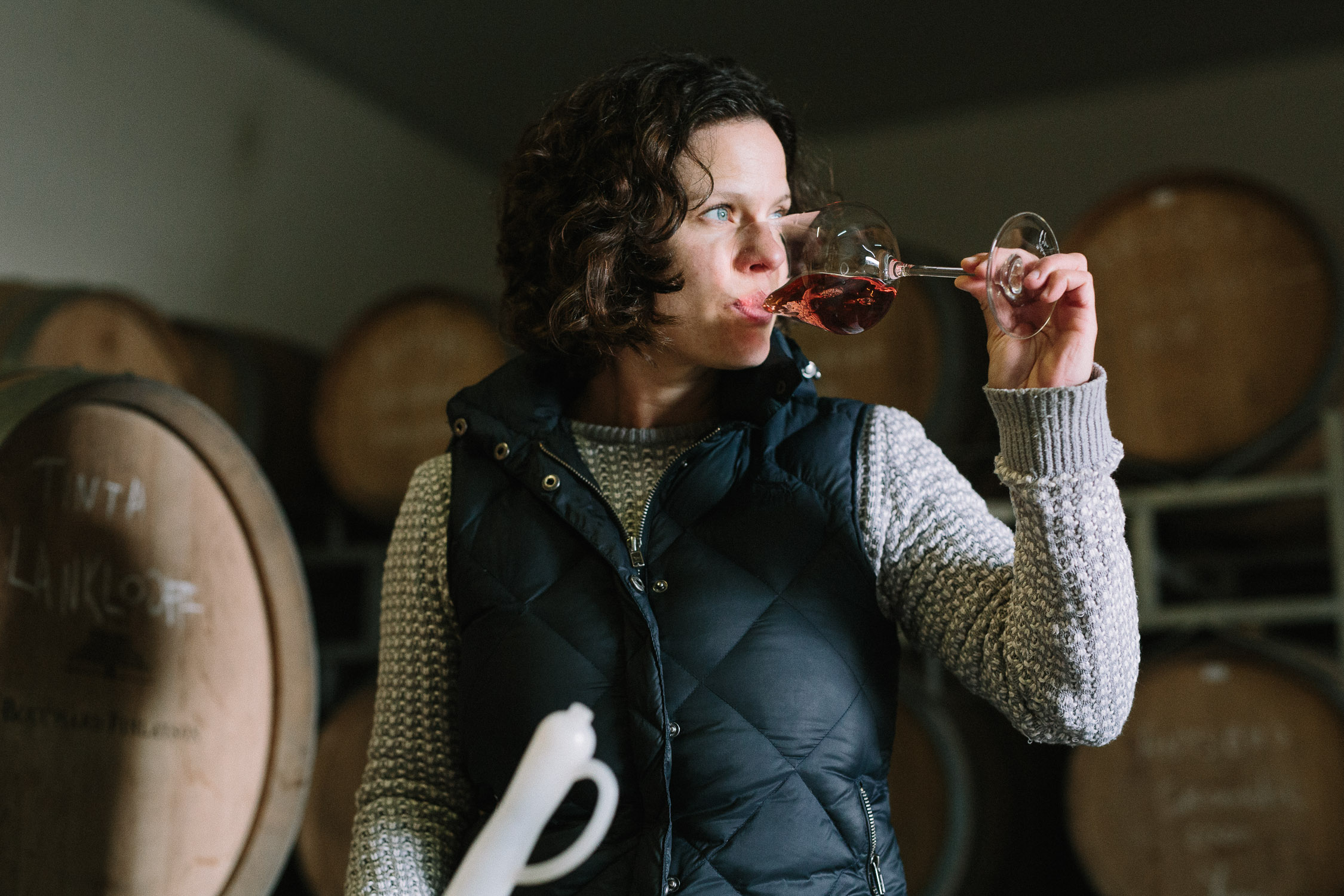 Marelise is the winemaker for her own-label Momento Wines as well as for Bot River farm, Anysbos, where she makes both ranges in the cellar there.
"I love working in Bot River as it still has that small, farming community feeling, there is nothing too fancy or pretentious about it. I love the open spaces, and the people here have plenty of personality!"
We're at yet another Bot River estate, Gabriëlskloof with its winemaker Peter-Allan Finlayson (also of Crystallum) as well as John Seccombe of Thorne & Daughters. It's clear the three friends spend a lot of time together. Lending equipment, swapping tales and tasting each other's wines. In fact they all used to work in the cellar here together before Marelise took the position at neighbouring Anysbos.
Much like the style of grenache she gravitates towards Marelise has a gentle nature. She always has a ready smile under her crown of auburn curls and bright blue eyes. She says originally wanted to be an animal psychologist, but back in the day there wasn't a degree to pursue for that field of study. "My parents wanted me to get a job of some sort," she laughs. "So the animal psychology thing flew out the window, but hopefully one day, you know?"
This love of animals was born from the same place as her love of grapes. Growing up in nearby Grabouw, Marelise shares that her uncle was the viticulturist for Elgin-based pinot noir specialists, Paul Cluver for around 30 years. And that her grandfather was a dairy farmer in Stanford. "In-between milking cows and being on the tractor with my grandfather and also in the vineyards with my uncle I discovered a real love for farming, for plants and animals and for being outdoors. So originally I didn't actually want to make wine, I wanted to farm the grapes.
"Today the vines are still at the core for me, I first see the wine through the vineyards.
"My grandfather played a big role in how I am today. He always said to me: 'Don't be scared to work, just do it'. And his words always come back to me in moments of self-doubt."
Taking her grandfather's words to heart, Marelise applied herself diligently landing a job at the prestigious Beaumont Wine Estate in 2007 for a tenure there of seven years, during which she worked some harvests abroad, one in California. During this was a trip that proved to be the catalyst that led her down her current path, a visit to the Priorat region in Spain, where along with Eben Sadie, she was inspired by how the 'old vine fruit was produced in such a fresh and vibrant way'.
"I just had to make grenache. So I started buying my own grapes and I realised that if I want to continue exploring and creating beautiful grenache from South Africa, I had to go on my own."
In 2013 she started her own label Momento Wines (while still at Beaumont) with just two barrels of grenache noir. Now she produces all three grenache varieties (noir, blanc and gris), sourcing grapes from old vines in both Bot River and the Swartland. She describes her approach as 'minimal intervention, putting terroir front and centre'.
"The way grenache expresses where it comes from: the soil, the region, the climate, the people who make it… very few other varietals to me are as clear cut as grenache. It's a very delicate grape. If you work with it too hard it loses its energy. And if you think about South Africa's future, the climate we have, the soils, in combination with growing water scarcity I believe it is definitely one of the most important grapes for our future."
Also part of the Momento stable is a chenin/verdelho blend as well as a tinta barocca. Marelise is clearly thinking about the future, all of the varieties she works with are naturally heat tolerant and can be farmed dryland.
For Anysbos she also works with grenache, in fact the farm planted the first dryland bushvine grenache noir in Botrivier in 2012. Along with chenin blanc, grenache blanc, rousanne, marsanne and shiraz. A must try from here is the Anysbos Tesame 2019, which was rated with 5-stars by Platter's Wine Guide, and is a blend of grenache, shiraz and cinsault.
"We have planted about 10 hectares of bushvines on the farm and we are organically growing the wine brand as we bottle more and as we get more grapes. Just making the best possible wines we can."
Another trip to Spain with her husband, then boyfriend, also proved pivotal. Sharing a series of happy moments with him inspired the name, Momento. "It's about living in the moment. What the moments were all about when you made the wine, when you drank the wine. It's all sort of a circle of just enjoying the moments of drinking, making and living wine."
Her artist husband, Hennie Niemann Jnr, can also be thanked for hand-drawn vine on her labels: an old vine with various personal characters worked into it.
The couple live in Onrus with their four-year-old son, where Hennie grew up. Onrus is also close to Marelise's heart as she spent many holidays there, 'there I learnt everything that was naughty and good," she laughs.
"We live two minutes walk from the ocean. Hennie spearfishes I dive for crayfish. I also love running and hiking. We've got two beautiful ridgebacks, they run with me, they swim with me."
And wine of course!
"There are very few things that make me as happy as seeing a happy vineyard in its right place. When I'm sitting in my winery with a massive map of the Western Cape and with the vineyards I work with. There are about 20 of them. They are like children to me, there are very few things that make me as happy as walking in those vineyards."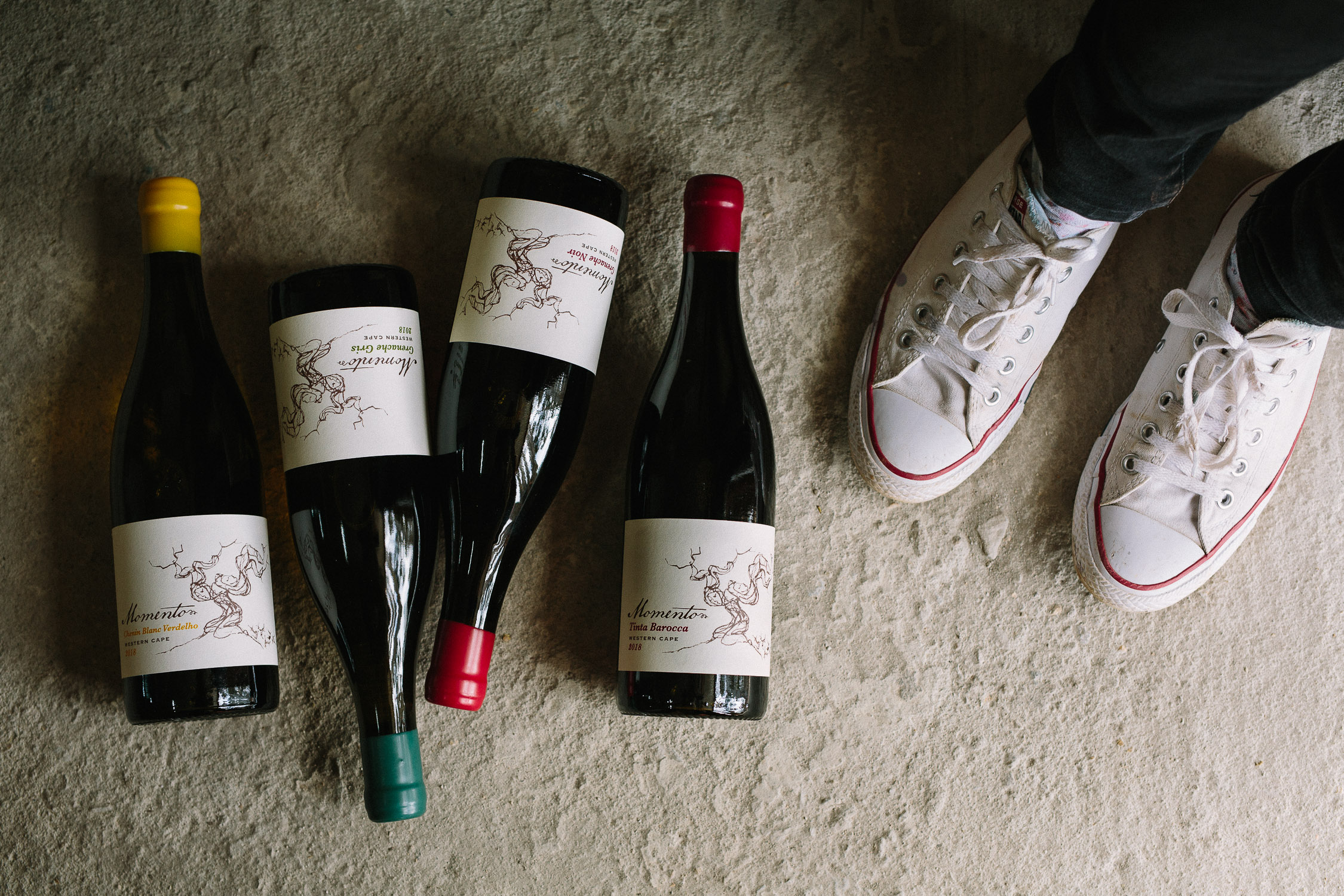 - Blog by Malu Lambert
Shared with permission from > www.wosa.co.za/WOSA-News/Blogs/Cape-Chatter/SA-Wine-Trailblazer-Marelise-Niemann/