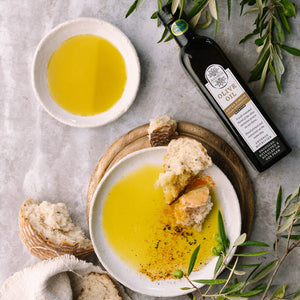 Olive Oil
Our extra virgin olive oil is a well-rounded blend of olive varieties grown on the farm. We press our own olive oil on the farm. The olives are hand-picked and cold extracted on the same day.  
SHOP NOW
Wine
All our wines are made from the grapes grown on the farm, in a little cellar at Anysbos that we share with local winemaker Marelise Niemann. She makes the Anysbos wines as well. 
SHOP NOW
Goats Cheese
Made from the milk of a small Toggenburg goat herd. We sell our handmade cheeses to shops and restaurants in the Overberg and the offspring of our goat mothers to other breeders locally and in neighbouring countries.
READ MORE
...was totally blown away by the very high quality of both the white and red.

Greg Sherwood
Cheese, wine and olive oil – what a combo!

Crushmag Online
I can vouch for the aptly named 'Caprino', a pecorino-styled cheese made from the goat's milk.

Dr Peter